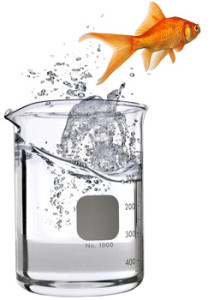 UPDATE – THESE POSITIONS HAVE BEEN FILLED. For general employment inquiries, please contact Kari Hartman, lab manager, at khartman(at)kennebecbio.com or at 207-844-5451.
Richmond, Maine — Kennebec River Biosciences, an aquatic animal health testing laboratory and USDA-licensed producer of autogenous fish vaccines, is now hiring for the following two positions:  Laboratory Technician, and Molecular Biologist.  Both positions are at KRB's facility in Richmond.  To apply, please send a resume and brief cover letter to Dr. Cem Giray, Laboratory Manager, at cxgiray(at)kennebecbio.com by Friday, May 27 at 5 pm.
Details of each position are as follows:
Molecular Biologist
Growing global aquatic animal health company seeking a motivated individual with experience in molecular biology. Undergraduate degree and related laboratory experience, interest in microbiology, ability to work in a team environment, accuracy, efficiency and good work ethics required. Eligible candidate must be able to carry out current protocols and optimize/develop new molecular assays, problem-solve, work independently, prioritize tasks and train/supervise staff. Salary commensurate with experience.
Job Type: Full-time
Required experience:  2+ years in molecular biology
Required license or certification: Driver's license
Required education: Bachelor's degree or higher
Laboratory Technician
Entry-level position in aquatic animal health laboratory. An interest in microbiology, ability to follow protocols and perform repetitive tasks, attention to detail, accuracy, efficiency and good work ethics required. Educational background in Microbiology or Biological Sciences and/or laboratory experience preferred. Position activities consist of laboratory preparation and clean-up, finfish and shellfish necropsy, sample collection and processing, and preliminary laboratory evaluations. Moderate lifting, physical activity and some travel also required. Salary commensurate with experience.
Job Type: Temporary
Required license or certification:  Driver's license